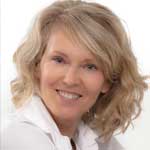 Nutrition and stress resilience expert
Delia McCabe (PhD) shifted her research focus from clinical psychology to nutritional neuroscience upon discovering nutrition's critical role in mental wellbeing while completing her Masters. Delia's research into female stress and nutrition has been published in several peer-reviewed journals, she is a regular featured expert in the media and her two internationally available books are available in four languages. Using her background in psychology, combined with evidence-based nutritional neuroscience and neurological perspectives, Delia supports behaviour change and stress resiliency within corporates, and for individuals who want to optimize brain health, via online courses, workshops, and tailored events internationally. 
When you choose to work with Delia individually you will receive four questionnaires to fill in and complete before the session. The 90-minute session comprises feedback on the questionnaires and personalised strategies for change which include a list of foods to focus on, evidence-based dietary supplements, and simple psychological shifts that will support you to feel 'light and bright' quickly. 
Making a booking
Delia is available for Zoom/Teams consultations.
The initial 90-minute coaching session is £250. Follow up 30-minute sessions are £80.
Contact Delia to find out more information and schedule a booking.