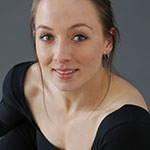 Remedial massage
Georgia is a sports massage and remedial soft tissue therapist from NLSSM (north London school of sports massage). 
Her number one goal is to make her clients feel better, which might be through relaxation and stress relief or injury rehab through massage and homecare exercises and stretches. 
She has extensive knowledge and practice with body functionality as her BA hons degree is in dancer performance (ballet and contemporary), she carries a level 2 fitness qualification and has also completed level 1 animal flow which is a challenging form of body weight training. 
Not only does Georgia want to ease your aches and pains but she wants to explain and educate her clients on why they hurt and how they can help themselves to prevent further problems. 
She believes that every person is different and treatment isn't "one-size-fits-all". She listens/feels to what her clients body is telling her and mostly uses intuition to lead sessions with good communication to maintain client comfort. 
PRICES:
90 minutes = £95 
60 minutes = £65 
30 minutes = £40 
Instagram: @fletcher_therapy
Facebook page: Fletcher Therapy 
Contact number: 07534001748