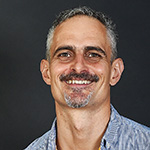 Coaching, mindfulness and leadership training
Andy is a former consultant with 13 years of experience at KPMG. In 2003 he began a new career in coaching and wellbeing. He started his wellbeing journey by training to become a sports therapist and yoga teacher
Coaching background
In 2008 he took a masters degree in applied positive psychology and trained as an emotional intelligence coach (MSCEIT model). His clients include PwC, Inclusive Employers Group, HAYS Recruitment, South 32, Australian Institute of Marine Science, AECOM, Amerada Hess and many others.
Resilience in students
Five years ago, he created the Health Professionals Self-Care (HPSC) program at the College of Medicine and Dentistry at James Cook University. Published Research into the program points to an increase in student resilience levels.
He is the founder of Breathe London and divides his time between his home in Sydney and his coaching commitments around Australia and the UK.
Book a session
Contact Andy for information about leadership, resilience, mindfulness and emotional intelligence training with teams and one to one coaching.