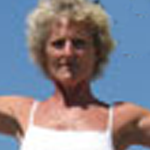 Tui Na massage and Iyengar Yoga
Brenda is a highly trained and vastly experienced body worker and yoga teacher. She brings a wealth of knowledge from both traditions to provide a unique healing experience. She has a diploma in Tui na (Chinese medical massage) and has been practising for over 25 years. She has also studied with Sarah Pritchard, the UK's leading authority on Tui na.
She's practised Iyengar Yoga for 38 years and taught for over 30 – including direct teaching from BKS Iyengar, Geeta Iyengar and Prashant Iyengar. In addition, she completed a remedial course as set out by BKS Iyengar and has knowledge of yoga for medical conditions.
About Tui Na massage and Iyengar Yoga
Tui na has been practised for over 4,000 years in China and is still widely used to treat many complaints. Tui na is safe, holistic and effective. It is a hands-on massage technique with the principles of Chinese medicine. It treats many of the same conditions as acupuncture without using needles. It is highly effective in treating Musculoskeletal conditions, including back pain, frozen shoulder and sports injuries.
Iyengar yoga is the foremost yoga training. Teachers dedicate many thousands of hours to their teaching practice. The benefits of a one-to-one remedial session are immense – improved circulation, energy, space, posture and movement.
Booking a treatment with Brenda
Either contact her via the booking link above or call 07812 827 566
A one-hour massage or yoga session costs £65
Brenda offers Tui Na and one-to-one yoga sessions at the Colombo Centre throughout the week.