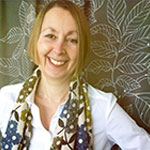 Dorinda Talbot - Core Process Psychotherapy 
Dorinda is available for therapy sessions remotely using zoom. For more details contact her today
Mindfulness is the simple practice of bringing gentle, moment-to-moment attentiveness to the body-mind process. It is a direct, powerful way of understanding and transforming the habits and patterns that distort our capacity for equanimity, joy and peace. Core Process Psychotherapy brings mindfulness into a safely held relational context.
A practitioner of Zen Buddhism for 26 years, Dorinda has completed an MA in Core Process Psychotherapy at the Karuna Institute in Devon.
As well as running a private therapy practice, Dorinda has worked as a counsellor for Mind in Camden's Minor Tranquiliser Project and is accredited with the UK Council for Psychotherapy (UKCP).
The first To find out more about psychotherapy and whether it's right for you, Dorinda offers a 30-minute consultation to begin with (for which she charges a nominal fee of £25). This is an opportunity for you to ask any questions you might have and to get a sense of whether therapy would be right for you.
Psychotherapy can help with specific issues such as Addictions, Anxiety, Bereavement, Depression, Eating disorders, Life transitions, Low self-esteem, Relationship difficulties, Sleep disorders, Stress, Post-natal depression, Pain management, Phobias and Psycho-sexual disorders. It's also helpful for people seeking more creativity and meaning in their lives. Over time, this work can help us to reconnect with a deeper sense of being – a place that is whole, luminous and unbroken.
Originally from Melbourne, Australia, Dorinda has been based in London since 1986..  She has been practicing Zen Buddhism for nearly three decades.  This enables her to truly be with her clients.  Three of the most important aspects of psychotherapy are the quality of the knowledge shared, the care and empathy of the therapist and the special relationship between therapist and client.  This builds over time but quite quickly in Dorinda's company you realise that you can tap into  a wealth of inner knowledge. The end of suffering and the tools for our freedom lies within each of us.
"Each of us has much more hidden inside us than we have had a chance to explore"
Mohammed Yunus founder of Grameen Bank
TO BOOK use the online booking form below or CALL DORINDA ON 07949 868 426