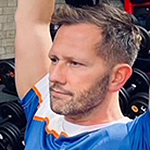 Personal training with Julien
I am an experienced Personal Trainer with a background in rugby and sports training working out of Jubilee Hall in London's Covent Garden.
I grew up near Clermont Ferrand, in France.
At a young age, I played rugby for my local team and continued to play at a semi- professional level until my early twenties. When I reached a higher level in rugby my coach suggested that I start training at a gym to improve my strength, stamina and overall fitness.
At this point, my fitness career began.
Over the years my exercise regime has changed, but my training philosophy has remained focused on the successful components developed for sports training. I remain a sports person to this day and will always train like one.
Partly as a result of this, I know how to get measurable results in the gym and enjoy sharing my knowledge and skills with my clients.
I offer a range of personalised training and fitness services, depending on the individual needs of each client. These services include one-to-one training, group training and short or long-term training. Within this range of services, my specialisms include core strength training, corporate training, HIV & fitness training, as well as pregnancy and training for the hard of hearing.
What I like most about one-to-one personal training is that it allows for the exchange of viewpoints during each exercise session. One-to-one training also allows me to work in a focused way with clients, to ensure that each workout is productive, accessible and meets agreed client goals.
Success in personal training is really in the details of each workout and its impact on the individual. As such, my approach is to respect the body and mind of my clients and to work with them to understand the impact of physical training on them as individuals.
Training also has therapeutic qualities and I endeavour to highlight these and take strength from them during each training session.
Ultimately, my training is based on the successful sports-based techniques I have accrued over the years and it delivers proven, sustainable results for everyone who trains with me.
Making a booking
Call Julien on for more details using the book button above.