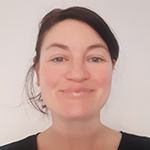 Acupuncture with Tina
Tina is a Traditional Chinese Medicine (TCM) acupuncturist with experience in helping clients with a wide range of physical and emotional conditions such as stress, anxiety, insomnia, menstrual disorders, menopausal symptoms, digestive issues, IBS, allergies, chronic and acute pain, musculoskeletal issues and migraines. 
Tina is passionate about helping clients achieve health and harmony in their lives through acupuncture and Chinese Medicine dietary and lifestyle advice known as Yang Sheng (nourishing life). 
Tina studied Traditional Chinese Medicine (TCM) acupuncture at degree level for three years at the City College of Acupuncture in London, under the guidance of some of the UK's leading acupuncturists. She has also undertaken further training on the menopause. Tina is a Member of the British Acupuncture Council (BAcC).
In addition to her practice at the Colombo Centre, Tina also works as a Teaching Assistant at the City College of Acupuncture sharing her knowledge and skills with future acupuncturists.
For more information visit Tina's website  
Tina works throughout the week at the Colombo Centre in Waterloo. Contact her today today to check on availability.
Treatment costs
Initial consultation and treatment - £85 (allow up to 75 minutes).
Follow up treatments - £70 (allow up to 60 minutes)
Making a booking
Call or text Tina on  07951 560169 quoting "Breathe London" or contact her via the booking form above.